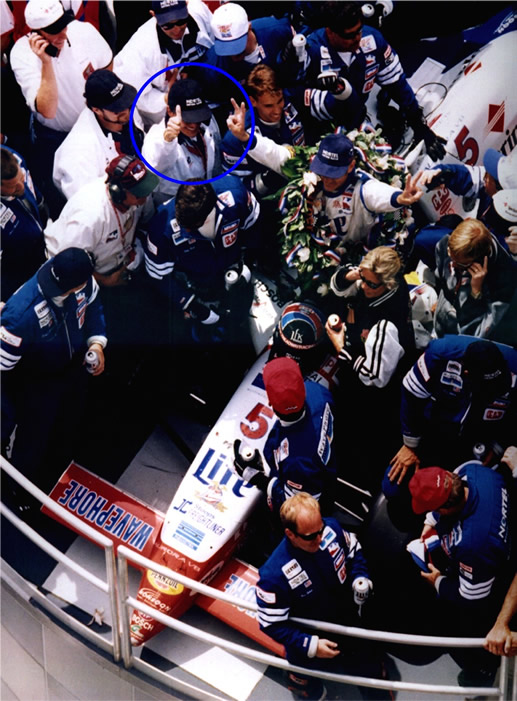 Mark Dill (blue circle) led the Nortel marketing program that sponsored Treadway Racing and their one-two finish in the 1997 Indy 500 with winner Arie Luyendyk and Scott Goodyear.
First Super Speedway is the largest on-line archive of primary research about pre-1920 auto racing history in the world. A service of Mark Dill Enterprises, Inc., First Super Speedway is ideal for history researchers, authors, motorsports journalists, educators and auto racing history aficionados. First Super Speedway has a mirror Facebook Page and Twitter account.
Background on Mark Dill
Born in Indianapolis, Mark Dill is a life-long auto racing fan and car enthusiast. While he spent most of his career in public relations and marketing roles in high tech companies, his responsibilities have frequently intersected with auto racing. While studying journalism at Indiana University Mark worked as news director of Indianapolis Raceway Park. He took a turn racing cars in Sports Car Club of America (SCCA) competition, winning the Southern California G-Production time trial championship in 1980 while completing a second baccalaureate in marketing at Long Beach State and later an MBA from San Jose State.
After becoming vice president of marketing at Nortel, Mark developed an IndyCar sponsorship working with driver Scott Goodyear for five years. Mark arranged sponsorship of Scott's teammate Arie Luyendyk at the Indianapolis 500 in 1997 and the team enjoyed a one-two finish. This was the first time since 1948 that a sponsor finished one-two at the Greatest Spectacle in Racing.
Mark has held a variety of executive positions at Fortune 500 corporations, venture capital-backed start-ups, and not-for-profit companies such as AT&T, Nortel, Corvis, Blue Cross Blue Sheild of North Carolina. He also founded his own marketing and communications services company, Mark Dill Enterprises Inc., in 2008.
Mark consults on book and Web projects and writes numerous articles on auto racing history, including many published in Indianapolis Motor Speedway programs. He was also heavily involved with Long Island, New York Historian Howard Kroplick on the book, "The Vanderbilt Cup Races of Long Island." In 2010 Mark accepted the position of Vice President of Marketing and Public Relations at the Indianapolis Motor Speedway (IMS) and served that organization for three racing seasons. He continues to author articles about the history of the Speedway and the Indianapolis 500 for IMS.
First and foremost Mark is a family man. He and Esther, his wife of 31 years, have two daughters - both graduates of North Carolina universities.
###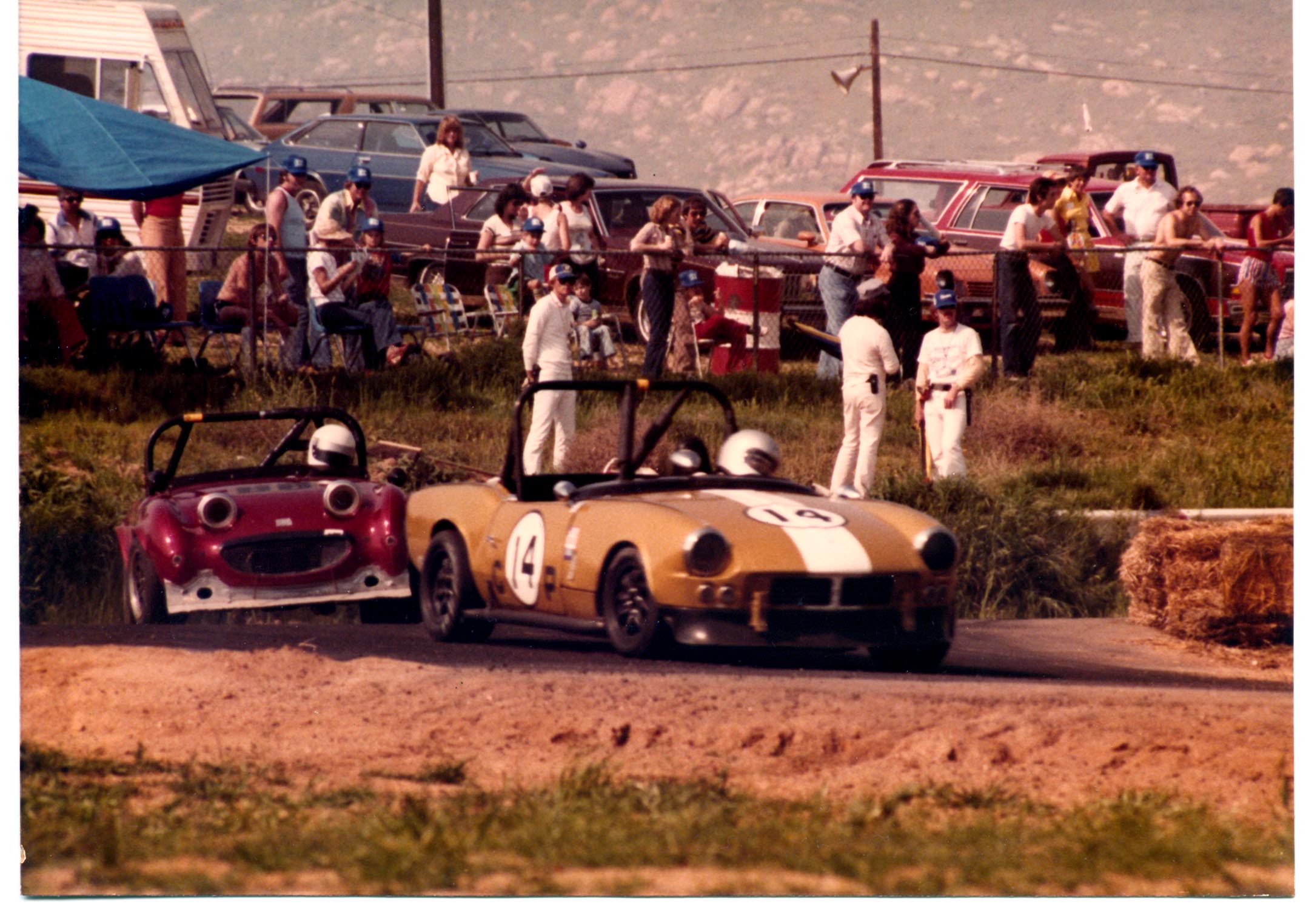 Mark Dill and his Cal Club time trial championship winning Spitfire.